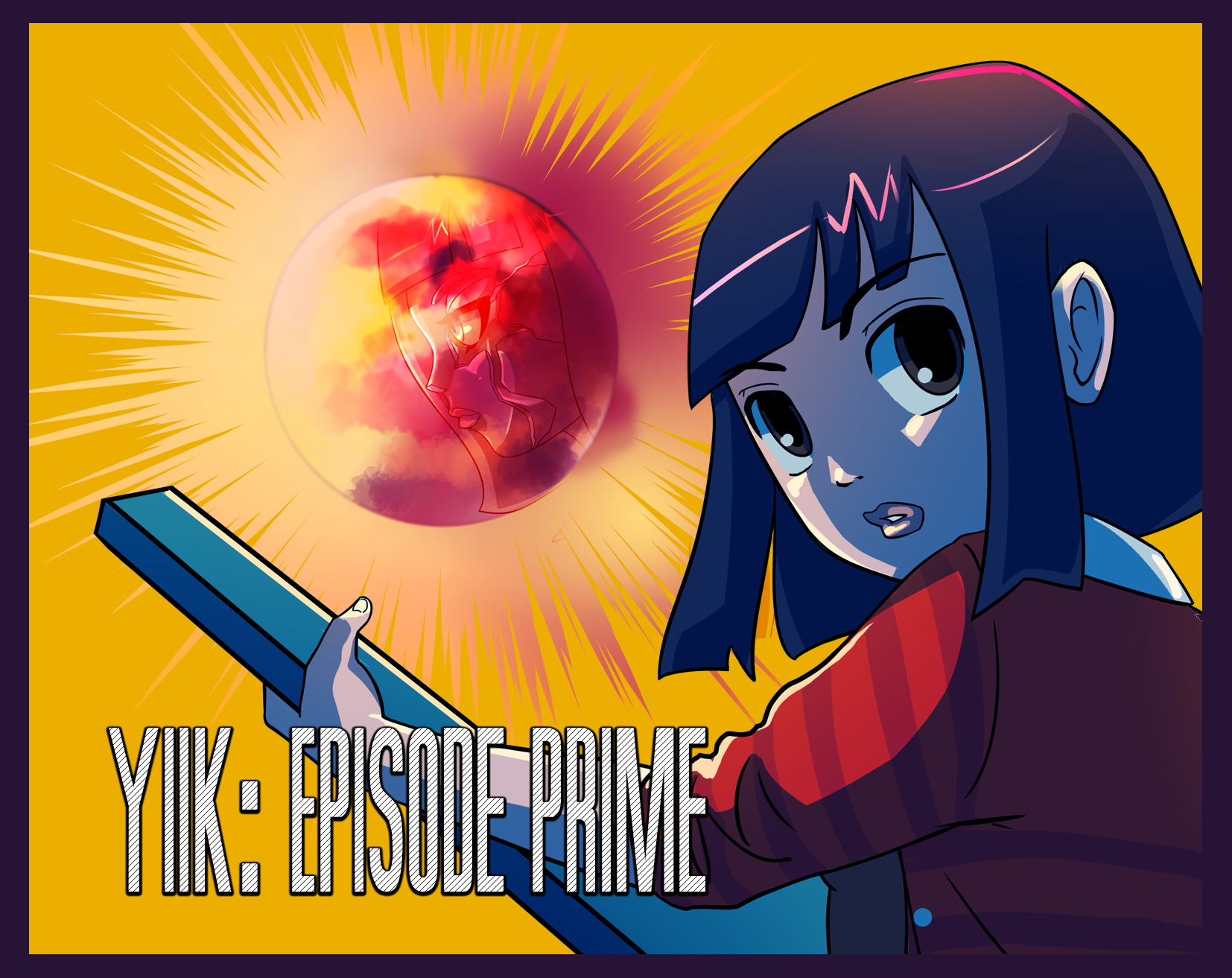 YIIK: Episode Prime "The MixTape Phantom and the Haunting of the Southern Cave."
A downloadable YIIK for Windows and macOS
---
Staring Vella Wilde, Alex Eggleston, and Claudio Erlich.
Download on 9/6/2016!
(Version 1.1 uploaded! Check release notes. 9/12/2016)
---
YIIK: Episode Prime - "The MixTape Phantom and the Haunting of the Southern Cave." is a standalone quest set within the world of the upcoming YIIK: A Postmodern RPG Video Game.

A Supernatural Japanese Style Role Playing Game with Action Based Microgames for Combat!

---
About the YIIK -
On the afternoon of April 4th 1999 Sammy Pak went missing.
That night, a video of her last known moments was uploaded online.
All of your friends excitedly watched as she is pulled from an elevator by something…. otherworldly. This is a story about what happens when you look for someone who can't be found… and the strange things you invite into your life when you go to forbidden places.
---
About The Demo -
Episode Prime contains some areas featured in the full game, as well as original content created to convey the vibe of the game, without spoiling any major story events.

This quest uses the full YIIK engine, and also acts as a good benchmark for performance of the full game on your machine!

What's it play like?

A bit of Persona 4, Paper Mario, some Earthbound, and a lot of Wild Arms and Lufia 2.
What's included?
Miniature dungeon with unusual enemies, and Lufia 2 style puzzles!
Explorable town with hidden secrets, shops, and unique NPCs!
Contained Story set within the world of YIIK: A Postmodern RPG.
Reduced version YIIK's unique COMBAT SYSTEM. Featuring Alex, Vella, and Claudio!
Petite version of ONISM1999. (In game Message Board where conspiracy theories, ghost sightings, and other strange things are discussed.)
Keyboard & Dualshock 4 controls.
Rockin' tunes by Andrew Allanson (Two Brothers), Jose Alfaro, Calum Bowen (Lovely Planet), Hiroki Kikuta (Secret of Mana), Michael Kelly (VA-11 HALL-A) and Toby Fox (Undertale).
What's NOT included, but will be in the FULL game?

Fully customizable controls and controller support. (Steam controller, Xbox, and whatever weird off brand thing you play with.)
Loads of dungeons.
Voice acting.
A bunch of towns.
A full, finished RPG really.
---
Why are you doing this???

We made this demo for PAX Prime (PAX WEST). We had been showing off a section of the game known as "Wind Town" for a while, and felt it was time to show off some other aspects of the game (mainly the dungeons, and the tool system...), but everything post Wind Town really gave away a lot of the game's secrets, and surprises... and that's pretty lame. So, we decided to make a unique scenario. Only thing is, not everyone gets to go to PAX WEST. (PAX Prime for us old timers) So, we're releasing this here so people can try the game out and see if it's something they'd be interested in.
Also, I'd like to note that we don't really plan on supporting this demo other than fixing serious issues. We're releasing it, and that's it really. We'll take bug reports and stuff, but mostly we'll just make sure they aren't in the real game (which will be coming out soon.) and move on.
-Ackk Studios
- RELEASE NOTES -
Updates in 1.1:
Tool Window glitch resolved.
Fixed rock debris collision issue.
Improved "Speak" display issue.
Improved Dali-tool usage on certain chests.
Improved word wrapping on 16:10 resolutions.
Improved sound trigger for "Inspect Exclamation."
Fixed intersecting chests in Frankton.
Improved "Healing Song" minigame.
Fixed HP glitch for fallen party members.
Fixed Time Energy display glitch in battle.
Fixed slowdown in cave above poison maze.
Improved quality settings.
Title Screen no longer flips.
Known issues:
Overworld water texture on certain Apple hardware flickers.
| | |
| --- | --- |
| Status | In development |
| Platforms | Windows, macOS |
| Publisher | |
| Release date | Sep 06, 2016 |
| Rating | |
| Author | AckkStudios |
| Genre | Role Playing |
| Tags | Alternate History, Detective, Experimental, JRPG, occult, postmodern, Retro, supernatural, Surreal |
| Average session | About an hour |
| Languages | English |
| Inputs | Keyboard |
| Links | Homepage, Twitter, Soundtrack |
Install instructions
Unzip the game, and click on the executable!
No fancy installer!